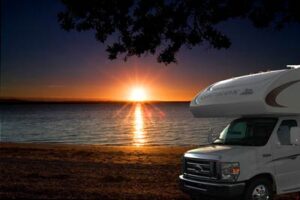 RVers hit the road not to escape, but to experience.  New, different, and distant places on the horizon, you set sail with nothing more than what fits into your cubbies and the shirt on your back, trekking down the highway in search of that perfect sunset in a campground not far away.
Rendezvous is that sunset.
Join hundreds of like-minded fellow RVers at an event like none other.  The knowledge that is shared & the friendships that are made will leave you with new found vigor and determination, knowing that this lifestyle, the RVing/Workamping lifestyle, is just right for YOU!
Training

A dozen presenters from all across the US will be sharing their secrets to building their successful Workamping lifestyle with you
Networking

250 Workampers and Dreamers will converge on Heber Springs, AR to design their future, build dreams, and develop new friendships that will last a lifetime
Certification

You will earn a certification seal that will be placed on your Awesome Applicant Resume to show employers you have taken initiative to grow as a Workamper
Workamper Rendezvous is a 3-day RV Lifestyle event based on the concept of Workamping (finding jobs as you travel to support your RV lifestyle). Thousands of people buy RVs every day in the US, and many of those folks will need to supplement their income by Workamping. Workamper News was created over 28 years ago to help fill that need.
Workamper News produces a magazine 6 times a year with articles about Workamping along with hundreds of help wanted ads in every issue representing thousands of jobs across the US and parts of Canada. www.Workamper.com provides members with access to the magazine, as well as a resume builder, daily emailed job listings, community tools, articles, videos, and more!
In 2010, Workamper News produced their first Workamper Rendezvous event. It was a huge success! We had about 175 attendees and had rave reviews from them, many of whom have continued to come back year after year! Join us for the 2016 Workamper Rendezvous and find out what all the buzz is about!