Coming in your RV?
There are plenty of beautiful campsites to park your rig around Greers Ferry Lake. The closest RV parks to the action are managed by the US Army Corps of Engineer parks and feature paved sites, tucked into the pines along the waters edge of the lake. The two closest are the Dam Site and JFK campgrounds; they are both about 1 mile from the Heber Springs Community Center where most of the Rendezvous action will be. Camping costs will not be included into your cost to attend; please be prepared to take care of your camping costs.
---
US Corps of Engineers Campgrounds:
view campground map
HWY 25 / Heber Springs Road N. – Just past the Quality Inn
Heber Springs, AR 72543
Facilities: 252 campsites (158 with electric of which 49 will have 50 amp service, 94 without) 40 campsites have water hookups available at the site.
Fees: $14 for non-electric, $17 electric, $19 prime, $20 with water or 50 amp electricity, $22 with water and 50 amp electricity.
view campground map
89 Park Road
Heber Springs, AR 72543
Facilities: 136 sites, 101 of which have electrical hookups (30 & 50). Additional amenities include flush and vault toilets, showers, a dump station, playground and a boat ramp.
Fees: $14 for non-electric, $17 electric, $20 with water or 50 amp electricity.
view campground map
375 Hatchery Road
Heber Springs, AR 72543
Facilities: 74 campsites with electricity (13 have water hookups), flush toilets, showers, drinking water, trailer dump station, launching ramp, playground and picnic shelter.
Fees: $17 electric, $19 prime, $20 with water or 50 amp electricity.
Reservations at Corps of Engineer Parks are not available during this time of year. Campsites will be available on a first-come, first-served basis.
Click here for more about the USACE Parks on Greers Ferry Lake or call (501)362-2416 to reach the Greers Ferry Park Office. Or visit Recreation.gov or call 877-444-6777 for even more information.
---
www.heberspringsrv.com/
(888) 611-2778
1259 Wilburn Rd
Heber Springs, AR 72543
Facilities: Reservations, 139 sites FHU 30 & 50, direct Access to the beautiful Red River, Only 2 miles from Greers Ferry Lake, 1 Beautiful Lake on site.
Fees: 30$ for 30 amp, $35 for 50 amp nightly
www.wagoncirclerv.com
wagoncirclerv@yahoo.com
(877) 362-8070
4009 Libby Road (HWY 337)
Heber Springs, Arkansas 72543
Facilities: Reservations, Full Hook-ups, and pull through sites are available at this privately owned campground, located just 15-20 minutes from the Rendezvous festivities. Enjoy a fishing dock on the Little Red River, 52 spaces with 50 / 30 / 20 amp electric, free cable, water, sewer, dump station, restrooms/showers, coin laundry, meeting room and store.
Fees: $29/night or $137/week — *Additional $5 per day per person if more than 2 persons*
---
Not Coming In An RV?
There are plenty of hotel options in Heber Springs for you to choose from. We've listed the two hotels that are offering Rendezvous attendees a special discount.
Or, get the full Rendezvous experience by renting an RV from River City RV Rentals. They will even deliver it for you!
---
www.qualityinn.com/hotel-heber_springs-arkansas-AR163
501-362-1000
3450 Hwy 25 B North
Heber Springs, AR 72543
This is the third closest accommodation to the Rendezvous event – about 3 minutes from the Community Center.
Amenities: Free hot breakfast, Free coffee, Free wireless high-speed Internet access, Free local calls, Seasonal outdoor pool
All spacious guest rooms feature luxurious pillow-top mattresses and include cable television with HBO, HBO Family, ESPN and ESPN 2. Coffee makers, hair dryers, irons and ironing boards are also included in all rooms. Some rooms come equipped with kitchenettes, microwaves, refrigerators and desks. Connecting rooms are offered.
Rates: Tell them you're coming for a Workamper News event and the rate is $70 + tax on king and $75 + tax on double rooms (about $13/night savings).
www.ihg.com/holidayinnexpress
501-887-9500
1350 Southridge PKWY
Heber Springs, AR 72543
Newly built. Slightly farther away from the event – about 8 minutes drive from the Community Center.
Amenities: Smart Start breakfast, High-speed Internet access, Business Services center, Health/Fitness center, Outdoor BBQ grills, Seasonal outdoor pool, Ice Machine
Rates: When you call the Holiday Inn Express to make a reservation, tell them you want a room in the Workamper Rendezvous block and the rate should be $84 + tax (about $14/night savings).
What Others Are Saying
(Hover your mouse over the testimonial to pause rotation)
---

Great Path To Confidence…
I have met some totally awesome people that have not only inspired me, but have encouraged me to continue on in pursuit of this new and exciting adventure! I definitely feel far more knowledgeable about the lifestyle and knowledge is a great path to confidence!

Outstanding…
Educational opportunities were outstanding. Presenters knew how to communicate. Excellent organization! Wonderful week! Being here was well worth the expense!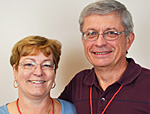 Insure Our Success…
We came here to learn about how to make Workamping work for us. We have more than met our goal. The knowledge we have gained will insure our success in our new life.

Best Thing I've Ever Done…
This was one of the best things I've ever done! After 4 years of full-timing I thought I knew a lot but no, i found out so much in a short time. Everyone was so helpful and excited about what was going on.

I Wouldn't Change A Thing…
Could be the most beneficial time I've spent in a conference setting. Not only did the individual classes provide information and inspiration, the roundtables and large group sessions were a confirmation of things I have thought of but done nothing about. I wouldn't change a thing!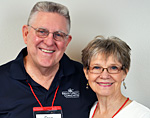 Very Enlightening…
This has been a very enlightening few days. I feel much more at ease with our decision to leave our present job and go down the road in our fifth wheel. Becoming Gold members opens a door to so much information and help that will be very valuable to us. We are getting several books and CDs that will give us even more guidance to smooth the road ahead. I am very excited about the potential of the lifestyle.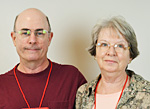 Given Us The Complete Picture…
We have just started our dreaming and looking at full-time RVing (in 3 years or so). The Rendezvous has given us the complete picture of working – from start to full-time employment. We now have a very clear idea on what Workamping is all about and how to proceed. We've met a lot of great people and got ideas from others that probably wouldn't have occurred to us. We expect to attend future Rendezvous to learn more.

Truly Inspirational…
This was my first time to attend, but it will not be the last. I've enjoyed this so much. I especially enjoyed visiting with experienced Workampers. It was truly inspirational.
Wonderful Learning Experieince…
This has been a wonderful learning experience for a new dreamer. The people are so helpful and exciting - I have met lots of new friends. The seminars have helped cement my decision to do & enjoy this lifestyle.

Rendezvous Rocks…
Rendezvous Rocks! You'd think after 2 previous Rendezvous' that there wouldn't be anything left to learn. WRONG! If you aren't actively learning and growing - you might as well be sitting in a rocking chair going nowhere and waiting to be put 6 foot under!

So Many Resources…
Anyone interested in the RV lifestyle needs to experience a Rendezvous. I know of nowhere where so many resources can be found in one place – face-to-face interaction is by far more informative than reading or watching DVDs, etc. The opportunity to talk to those who have made this decision and living the RV lifestyle was very positive.

Much More Knowledgable Now…
Great classes. The roundtable discussions were great; they brought up topics we didn't even know to ask questions about, like insurance and mail forwarding. I am much more knowledgeable now about the lifestyle.

Excellent Way To Learn…
This was an excellent way to learn more about the Workamper experience and strategy.

SO Well Organized…
This Workamper Rendezvous was SO well organized! Each & every seminar was well prepared and clearly presented and there were plenty of places to make notes in the smartly organized personalized binders. Things were well timed and fun to attend. It seemed that every little detail was thought of, including a page to make new friends/connections. We've been made to feel VERY welcome. BRAVO!