We thought we would share a bit of info about what there is to do in Heber Springs, in case you find yourself with some spare time on your hands during the week of Rendezvous (which is very unlikely as we will be keeping you busy!)
Check out www.heber-springs.com for a great overview of what's available in town.
---
History & Educational Stuff
Corps of Engineers Visitors Center (at the western end of the dam) - information center & exhibit hall, with a theatre and 20 min presentation on area history.
Dam Viewing Platform (at the eastern end of the dam) - where JFK made his last major appearance before his ill-fated trip to Dallas a few weeks later. Nice view of the dam.
Greers Ferry National Fish Hatchery - Rainbow and Brook trout, visitor center, self-guided hatchery tours, trout fishing in the Little Red River adjacent to hatchery grounds. Hours are 7 am - 3 pm daily.
---
Outdoorsy
Hikers can enjoy two award-winning national nature trails located near the (Corps) welcome center. Mossy Bluff extends along a tree-covered bluff overlooking the Little Red River, immediately below the dam. It ends almost one mile away at a rustic shelter, which offers a panoramic view of the river and dam. Nearby is Buckeye Trail, a short barrier-free, paved pathway designed for the physically challenged. Guide maps for both trails are available at the center.
You can also climb the land-locked SugarLoaf which is out by the four way stop, behind the college. Look for the sign for the trailhead off Hwy 110
Bridal Veil Falls - pretty waterfall and creek area. North of town on Hwy 25 before you go up the big curvy hill, turn onto Bridal Veil Falls Rd.
Collin's Creek - fed by a pipe from the lake, this is a lovely little creek with bunches of rocks creating tiny waterfalls as it descends. There is a trail entrance and parking along the entrance to JFK campground.
Spring Park – located in the heart of town on East Main St. Named after its natural springs which are covered by pavilions and accessible throughout the park.
---
Golf
Recommended by the locals are Lost Creek golf course and Red Apple Inn & Country Club - Both are 18-holes.
---
Fishing
Greers Ferry Lake holds world records for Walleye (22 lb 11oz) and Hybrid Striped Bass (27 lb 5 oz). The Little Red River tail water, which feeds into Greers Ferry Lake, holds the current world-record for German Brown Trout (40 lb 4 oz). Trophy-sized fish are common in our waters, come see for yourself, maybe hire one of the many fishing guides in the area that will put you "on the fish" in the lake or river.
Fishing guide service - www.redrivertroutdock.com
---
Shopping
Downtown around the courthouse you'll find MANY cute shops and flea markets.
Walmart has pharmacy, groceries
---
Movies
The Gem Theatre downtown shows one movie at a time.

M-F - 7:30 pm
Sat and Sun - 2 pm & 7:30 pm
---
Veterinarian
Ozark Animal Medical Center


501-206-0505
2150 Bypass Rd, Heber Springs, AR 72543

Sartin Vet


501-362-2800
7200 Hwy 110 W, Heber Springs, AR 72543
---
Dog Sitter
Dog Sitter by Alex 501-691-5150
---
Churches of many denominations
What Others Are Saying
(Hover your mouse over the testimonial to pause rotation)
---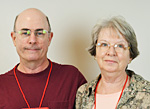 Given Us The Complete Picture…
We have just started our dreaming and looking at full-time RVing (in 3 years or so). The Rendezvous has given us the complete picture of working – from start to full-time employment. We now have a very clear idea on what Workamping is all about and how to proceed. We've met a lot of great people and got ideas from others that probably wouldn't have occurred to us. We expect to attend future Rendezvous to learn more.

Great Path To Confidence…
I have met some totally awesome people that have not only inspired me, but have encouraged me to continue on in pursuit of this new and exciting adventure! I definitely feel far more knowledgeable about the lifestyle and knowledge is a great path to confidence!
Wonderful Learning Experieince…
This has been a wonderful learning experience for a new dreamer. The people are so helpful and exciting - I have met lots of new friends. The seminars have helped cement my decision to do & enjoy this lifestyle.

Rendezvous Rocks…
Rendezvous Rocks! You'd think after 2 previous Rendezvous' that there wouldn't be anything left to learn. WRONG! If you aren't actively learning and growing - you might as well be sitting in a rocking chair going nowhere and waiting to be put 6 foot under!

Truly Inspirational…
This was my first time to attend, but it will not be the last. I've enjoyed this so much. I especially enjoyed visiting with experienced Workampers. It was truly inspirational.

SO Well Organized…
This Workamper Rendezvous was SO well organized! Each & every seminar was well prepared and clearly presented and there were plenty of places to make notes in the smartly organized personalized binders. Things were well timed and fun to attend. It seemed that every little detail was thought of, including a page to make new friends/connections. We've been made to feel VERY welcome. BRAVO!

So Many Resources…
Anyone interested in the RV lifestyle needs to experience a Rendezvous. I know of nowhere where so many resources can be found in one place – face-to-face interaction is by far more informative than reading or watching DVDs, etc. The opportunity to talk to those who have made this decision and living the RV lifestyle was very positive.

Best Thing I've Ever Done…
This was one of the best things I've ever done! After 4 years of full-timing I thought I knew a lot but no, i found out so much in a short time. Everyone was so helpful and excited about what was going on.

Much More Knowledgable Now…
Great classes. The roundtable discussions were great; they brought up topics we didn't even know to ask questions about, like insurance and mail forwarding. I am much more knowledgeable now about the lifestyle.

I Wouldn't Change A Thing…
Could be the most beneficial time I've spent in a conference setting. Not only did the individual classes provide information and inspiration, the roundtables and large group sessions were a confirmation of things I have thought of but done nothing about. I wouldn't change a thing!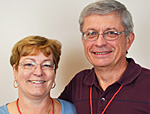 Insure Our Success…
We came here to learn about how to make Workamping work for us. We have more than met our goal. The knowledge we have gained will insure our success in our new life.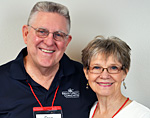 Very Enlightening…
This has been a very enlightening few days. I feel much more at ease with our decision to leave our present job and go down the road in our fifth wheel. Becoming Gold members opens a door to so much information and help that will be very valuable to us. We are getting several books and CDs that will give us even more guidance to smooth the road ahead. I am very excited about the potential of the lifestyle.


Excellent Way To Learn…
This was an excellent way to learn more about the Workamper experience and strategy.

Outstanding…
Educational opportunities were outstanding. Presenters knew how to communicate. Excellent organization! Wonderful week! Being here was well worth the expense!